Quick Links

The Professional Nibbler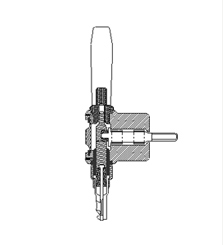 Cross Sectional Diagram of the
Professional Nibbler
The Professional Nibbler, is designed and manufactured in Australia, patented in Australia 2006203562, China ZL200710142640.6 and United States 8,783,147. The Professional Nibbler, by Turner Precision Engineering (Aus) Pty Ltd comes with a five year guarantee.
The Professional Nibbler is TPE'S drill attachment Metal Nibbler for cutting sheet metal - with no sparks, distortion or jagged edges. It is probably the most versatile Metal Nibbler drill attachment on the market. This has been achieved due our Engineer having been the inventor and manufacturer of drill attachment Metal Nibblers for over 30 years. There have naturally been continual and progressive improvements in both the design and manufacturing processes we use, built into our current design. The Professional Nibbler is engineered with passion, dedication and attention to detail!.
The Professional Nibbler will cut sheet metal, corrugated, colour bond, plastics, tubular sections etc in straight lines and curves with radiuses as small as 8mm. It cuts without distortion or leaving jagged edges, and is completely safe to use as fingers cannot enter the cutting face. The Professional Nibbler can be used hand held, or hand's free by using two bench mounting clamps.
The Straight and Circle Cutting Attachment for the Professional Nibbler - also designed and manufactured by Turner Precision Engineering, makes it easy to cut out circles or to follow a straight edges with your Professional Nibbler.
Materials the Professional Nibbler will cut:
Plastic, Formica, Polycarbonate up to 2mm thick
Mild Steel up to 1.6mm thick
Brass & Aluminium up to 2mm thick
Stainless Steel up to 1mm thick
For Australia and New Zealand Retail enquiries please click here for our exclusive distributor web site www.professionalnibbler.com.au
For overseas wholesale enquires please Contact Us
The Professional Nibbler: Sunshine Coast | Gympie | Coolum | Maroochydore | Mooloolaba | Kunda Park | Caloundra | Caboolture | Brisbane | Gold Coast