Hydraulic Cylinders
Turner Precision Engineering's standard agricultural hydraulic cylinder is a field proven design suitable for the majority of medium duty applications. Our streamlined design has an integral front cap end, in conjunction with ports integrated into both the cap end and the gland. It is designed and manufactured in Australia, currently for the Agricultural market.
Specification
Cylinder Barrels:

Seamless Honed Hydraulic Tube SAE1020 H8

Piston Rod:

Hard Chrome Bar SAE1045

Gland:

High Strength 2P Cast Iron; AS1830-T260

Ports:

Standard 3/8 BSP & 1/8 BSP, these can be rotated if required and threads changed to customer specification.

Piston:

2011 T6 Aluminium

Piston Nut:

1/2 -20 UNF Nylon Insert Locknut. Zinc Plated.

Piston Seal:

Semi Compact Seal with double lip. Polyurethane

Gland seal:

With Symmetric Lips. Polyurethane

Rod Wiper:

With Shoulder. Polyurethane

Rod to Piston Seal:

O Ring.
We offer a wide range of standard bore and stroke lengths for our Hydraulic Cylinders which are made to customer specification. TPE's Hydraulic Cylinders are manufactured to customer specifications only.
A Hydraulic cylinder is a mechanical actuator that is used to give a linear force through a linear stroke. It has many applications, notably in engineering vehicles.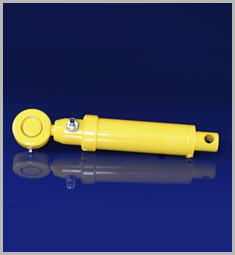 Hydraulic cylinders get their power from pressurised hydraulic fluid, which is typically oil. The hydraulic cylinder consists of a cylinder barrel, in which a piston connected to a piston rod moves back and forth. The barrel is closed on each end by the cylinder bottom (also called the cap end) and by the cylinder head where the piston rod comes out of the cylinder. The piston has sliding rings and seals.
The piston divides the inside of the cylinder in two chambers, the bottom chamber (cap end) and the piston rod side chamber (rod end). The hydraulic pressure acts on the piston to do linear work and motion.
Our Hydraulic Cylinder is Australian Made.
Hydraulic Cylinders: Sunshine Coast | Gympie | Coolum | Maroochydore | Mooloolaba | Kunda Park | Caloundra | Caboolture | Brisbane | Gold Coast